I am finally getting around to posting and updating my blog. I am sorry for being gone so long and apologize for my recent absence. I have had lots of issues to deal with in my personal life. It had me overwhelmed and down and out, mentally and physically. I am doing better now and think I have a handle on things.
I felt it was time to get busy and update everyone on what has been going on. There is so much going on right now, and so many projects that I am involved in, I don't know where to begin.
Roxy's puppies are now officially five weeks old and little bundles of energy. They are hopping, jumping and running around the house now, getting into as much trouble as they possibly can. Damien knows how to get out, and back into his basket now. It will soon be time for time for them to get their first shots and me to find them a good home. The unfortunate part is that Prince, our little black and brown boy, is legally blind. He can't hardly see anything and will make life difficult for him. I feel so bad for him, because he is such a sweetheart. The good part is, he is promised to someone who will give him lots of love and understanding with his disability. I think that they will be a perfect fit for each other.
These are the most recent pictures I have of them. Sorry, I can't seem to keep batteries around this house to save my soul.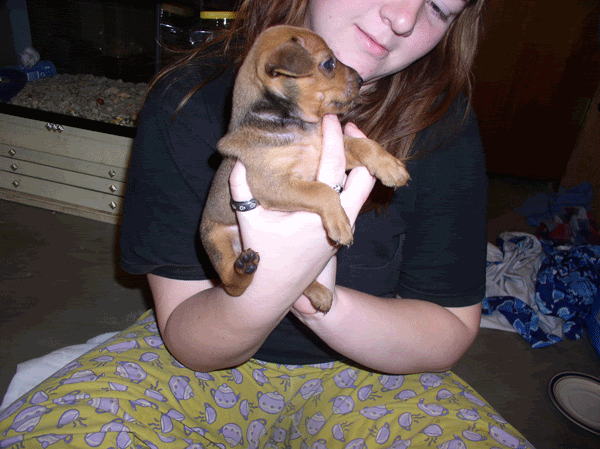 This is Damien, our little sweetheart. He is the ornery one, but loveable, too.
This is Max. He is our little devil child and like to rip and tear everything up. He is going to need lots of discipline.
This is Prince. He is such a sweetheart and a little lover. Because of his eyesight, he likes to be held and comforted constantly, and doesn't do much of anything else. He is a big snuggler.
It is going to be very hard for me to let them go. I love them all so much and wish I could keep them. It is going to tear my heart out to see them leave.
Okay, that is an update on all of that. Now down to business. I have lots of other news to share with you.
That is all I am going to post for right now. It is after 2 in the morning and time for me to take a break. I will be back later with some tags and layouts that I created, among other things. TTFN.