Hi everyone. I am back. Sorry I have been MIA the last few days. I have had to spend the last few days going through and cleaning out my computer. At this point, I think all of the issues have been resolved and taken care of. I surfed around the net and other blogs most of the day yesterday, and did not have one pop-up the whole time. That is a first. IE is finally leaving me alone, thank goodness. It only took adding another virus protection software, 2 full scans of my computer (at 4 hours each), defragmenting my hard drive and a tune up that took 6 hours to get it accomplished.
During this time, I was accessing my email and other sites through my husbands computer. Unfortunately, I was not able to create any layouts or design any new elements, as my program was on my computer.
I am soooo excited to be back on and am ready to rock and roll now. I have a lot of catching up to do. And a lot of wonderful designs coming up very shortly. The first of which is 'A Father's Legacy', due to be released this coming Saturday. I was working on some new elements to be included in that kit last night and it is really shaping up nicely.
Okay, so a recap of the last few days activities from the land of chaos. My son, Anthony came over for a visit with his new girlfriend a few days ago. She seems to be really nice. Chelcey knows her from school and says she will be really good for him. They seem to be happy. He may or may not be graduating the end of this semester, still not sure yet. They may decide to make him take another semester and finish out the school year in order to graduate, which he is not really excited about. We all sat down and watched the newest 'Indiana Jones' movie, which I thought was way better than what the movie critics rated it. I highly recommend it to anyone who is an 'Indiana Jones' fan that hasn't already seen it. I thought it was just as good at the first ones.
I couldn't kick DH off of the computer Saturday, because BSU was playing a home game on the 'smurf turf'. No way we were going to miss that. It was a hard fought game, but they won 49 - 14, I think it was, and rated 9th in the nation with a winning streak of 9-0. Go Broncos. They have a chance to play in the BCS bowl now. Maybe we will see them in the Fiesta Bowl again.
Anyway, Sunday was a pretty lazy day. I spent all day scanning my computer, removing unneccessary programs, emptying my cache and temporary internet files and then doing the tune-up. That pretty much took all day. Which of course, did not allow me to do anything else on the computer while it was doing that, so it was pretty boring. I have been chomping at the bit to get back on the computer and get busy again. My desk is a mess with all of the clutter. I have about 4 stickie notes full of reminders of what I need to be working on and not able to do it. Which means I guess I better shut up and get down to business. No new layouts or pics to post, for now, and the kits are not finished, yet. I will post them when they become available.
BTW, as a side note, in my wanderings around yesterday and trying to update my blog blinkies, since I did not realize they were not working, yada yada yada, I ran back across a blog I had bookmarked a while back. It is Cuddlebeez Scraps and she has some wonderful kits available. I am using a couple of her kits to help her create a blog blinkie for her blog, at the same time as I am working on one for my own. If you haven't already been there, you need to check it out. I don't just say that lightly either, she has some wonderful creations. Here are previews of her latest kits. Click on the previews and it will take you to her blog where they can be downloaded.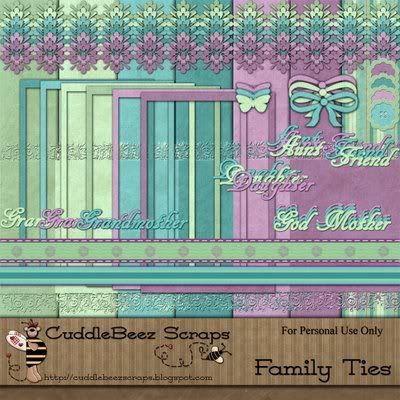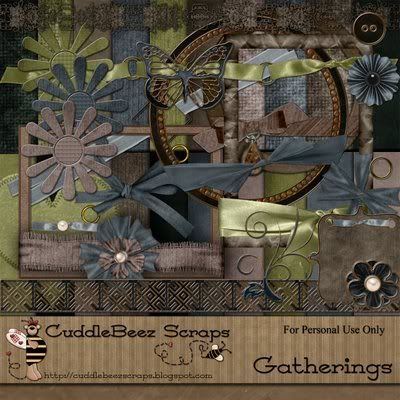 Okay, time for me to say goodbye for now and get back to work. Lots to do. Take care everyone and have a great day.