Sorry I am late posting today. I had internet issues this morning and it took me 2 hours to fix it.
Today is the day. It is finally here. So, pull up a chair, grab your smokes if you need them, a cup of coffee or tea, (or whatever you prefer to drink), maybe a box of Kleenex (if you don't need one, can you pass me one) and sit a spell. This is going to be a long post. There is a long explanation behind this, so please bear with me and I hope you enjoy.
The name of my new kit is called 'A Father's Legacy'. It was inspired by a few different circumstances. The first was a layout challenge on DSP for Meryl's Heritage. One of the participants had an idea for scrapping antique furniture that had been in our families for a long time and who the family member was that owned or made the furniture. At the same time, the SNL scrappers challenge was to do a Masculine Heritage kit, focusing on fastener.
I decided to create a kit dedicated to my dad and combine the two challenges. I didn't get my layout finished in time for the Heritage challenge, this layout has been in the works for over a month. I wanted it to be perfect. The kit was inspired by and created for the only father I have ever known. Just in case you haven't read my earlier posts, my real dad was killed in a car wreck after coming back from Viet Nam when I was a baby. My
grandparents
raised me, until they adopted me when I was 5 years old, becoming my
parents
. My real mother then became my sister. It can be very confusing at times.
I loved my dad very much and miss him terribly. He was the greatest influence in my life, my hero and my inspiration. He taught me everything he knew. He had the best sense of humor of anyone I have ever met. Life could never get him down, he just laughed and persevered. He was a carpenter, mechanic and general handy man all of his life. Even after he had his hand blown up by a car tire in the 50's, (crushing every bone in his hand), he exercised his hand daily with a tennis ball to get the use of his hand back. He wasn't supposed to ever be able to use that hand again, but he did. He never gave up and he never complained.
I lost him in 1997, but he is still with me in my heart. This has been very emotional for me, more so than I thought it would be. This is a big day for me because I can finally debut this kit for everyone to see. I worked very hard on it to make sure it was perfect and reflected my dad's personality. My dad wasn't in to a lot of fancy things. He did with what he had, and if he didn't have it, he would make it. He was very creative and talented, and I like to think that I got a lot of that from him.
The layout I put together hopefully reflects that creativity. He decided I needed a toybox to store my toys in, so he made one. Yes, the pictures are of me sitting in my new toybox, plastic pants and all. LOL.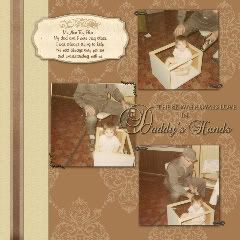 There is only one element on this layout that was not created by my own hands and that is the journaling tag. Credit for that goes to Anneli Andersson of Attic Treasures. You can download the tags from her blog,
Attic Treasures
at happy-digiscrapper.blogspot.com.
Okay, enough of my blathering. Without further ado, I give you 'A Father's Legacy'.
This is the original preview for SNL scrappers.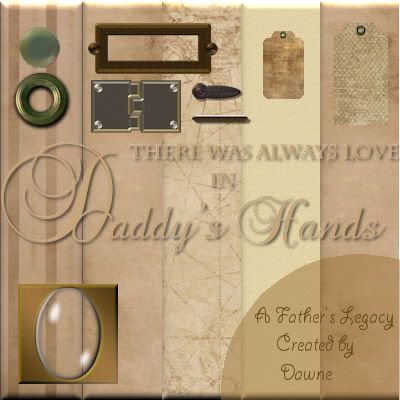 And this is a preview of some of the new items I have added. Not all are shown.
All of the papers are full size and everything is 300dpi. There are 12 papers and 20 elements.
Kit Contains:
12 Background Papers
4 tags
1 bookplate
1 brad
1 brass eyelet
1 brass hinge
3 photo prongs
1 staple
1 hammer
1 old fashioned drill
1 photo frame
4 photo corners
1 word art
I am very nervous and am hoping that you like it. Please leave comments here or on my 4shared account and let me know what you think, like, dislike, problems, changes or constructive criticism. Thanks.
Also, I wanted to take a moment and post a blog blinkie I made for Brenda of Cuddlebeez Scraps. Thank you so much, Brenda, for giving me the opportunity and the wonderful comments on your blog. I am glad you like it. When you have a chance, cruise by her blog and check out her totally awesome kits she has available. They are a must have. Here is her blinkie. Feel free to snag it and post on your blog.
Okay, time for me to take off. Got to dry my face off and go watch the Boise State game. They are ahead, so far. Take care and have a wonderful day.