Hello and Welcome. You have reached stop #56 on Holly Jolly Blog Train. Watch your step as you stop off here at my little scrap spot on the World Wide Blog.
It is finally here. I have been looking forward to today and am so excited.
I have more than 1 freebie for you to snag while you are here, so I hope you have plenty of room available on your hard drive. LOL.
I had the opportunity to create some Quick Pages for other designers with their portions of the blog train, also. I was hoping to get more done, including some blog backgrounds, but I had some unfortunate occurrences with my computer.
The first one was that I did not realize until it was almost too late that my PSP program was messing up on me. I had already zipped everything up and uploaded to 4shared when I figured everything out. For some reason, one I have still not figured out (and Corel has still not gotten back to me about), my program was saving all of my png's at 300 pixels per
centimeter
instead of pixels per inch. So, I had to run back through quickly and fix them, re-save, re-zip them up and upload to 4shared, again. It was a small nightmare, but I got it done and everything should be fine now. At least, I hope so. If not, please let me know and I will try to correct it.
Then, when I was surfing the 'Christmas Around The World' blog train, (when I should have been busy creating the Quick Pages), I picked up a malware program, instead. It took me 2 days worth of work scanning my computer with AVG, Windows Live Onecare and Spybot. Finally got it, but I lost all that time on the computer that I could have been being more productive. That will teach me. From now on, Work before Play.
Okay, so enough of my blather. Let's get down to business. The first freebie is my portion of the Holly Jolly blog train. It is broken down into 2 parts to make downloading easier.
Kit Contains:
22 Papers
40 elements
95% of it was created by me. I have included the other designers TOU for their CU items that I used.
Download Papers
Here
Download Elements
Here
password is jolly, if it asks for one.
I also created 2 Quick Pages for Carolyn of
Digi Cyber Scraps
with her portion of the blog train. I am a big admirer of her designs and was very honored to have the opportunity to work with her. Click on the preview to download.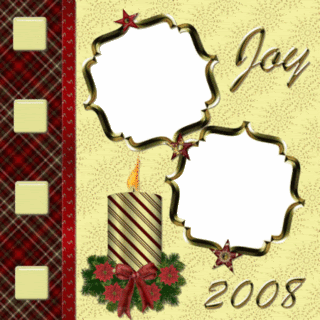 The next preview is of 2 Quick Pages I created for Michelle of
Michelle's Angels
with her portion of the blog train. Click on preview to download.
Due to the fact that the designers are located in all different time zones in the world, it's possible you may visit a blog before the designer has had a chance to upload. If that happens, check the blog later in the day.

Just in case, click on the Holly Jolly logo to find the different contributions. A good idea might be to bookmark this page. That way, you can pick up where you left off.
Now that you have my portions of the blog train, your ready to continue on your way down the track. Thank you for stopping by.
Check back in periodically, as I will have more Quick Pages and Blog backgrounds using other designers portions of the blog train still coming up very soon. I also have some add-ons for my kit coming up, also. I have a few other surprises up my sleeve, too.
Have fun and enjoy. Watch your step so you don't trip, okay. Wishing a Very Merry Christmas and a Blessed New Year to all.
Here is the rest of the blog roll.
Stop 01 - BeaconScrap
Stop 02 - Carolyn Ritter
Stop 03 - Karrie Thomas of Kez Creates Designs
Stop 04 - Crafted by Gina
Stop 05 - DesignsByAmilyn
Stop 06 - Michelle Angeles
Stop 07 - Throwing Some Scraps Around
Stop 08 - Country Hollow Scraps
Stop 09 - ScrapinDaisy from Designs by Ruth
Stop 10 - Bits O'Scrap
Stop 11 - Wimpychompers Creations
Stop 12 - QueenBrat Designs
Stop 13 - Mumure
Stop 14 - Frosted Illusions
Stop 15 - Aussie Scraps
Stop 16 - HutchsBaby Faith in Christ Scraps
Stop 17 - MoveFearlessly Designs
Stop 18 - swordascrappin
Stop 19 - Kismet
Stop 20 - Missladyhawke
Stop 21 - The Queen and The Princess Designs
Stop 22 - Vanjo Designs
Stop 23 - Angi's Place
Stop 24 - SotoCreations
Stop 25 - The Mathematician's Assistant
Stop 26 - Crops2Dawn Creations
Stop 27 - S.G.Rowe Designs
Stop 28 - Amy's Scraps
Stop 29 - jaydensmama
Stop 30 - Crystal's Creations By Design
Stop 31 - Digital Creations by Amber
Stop 32 - Kitten Scraps
Stop 33 - Grandma Pat
Stop 34 - Grunge and Glitter Scraps
Stop 35 - JIC Creations
Stop 36 - Butterfly Kisses
Stop 37 - Babyyaks
Stop 38 - Simply Beautiful Creations
Stop 39 - Pretty Scrappy
Stop 40 - TammyJo's Creations
Stop 41 - CMB Designs
Stop 42 - Christy Skaggs
Stop 43 - SnapScrapCreate
Stop 44 - Believe Designs
Stop 45 - Linda's Dream Designs
Stop 46 - MIP Scraps
Stop 47 - Miss Erin's Scraps
Stop 48 - WillowRaven at Purple Dragonfly Creations
Stop 49 - Digital Keepsakes
Stop 50 - Blind Sight Designs
Stop 51 - Dreamland Designs
Stop 52 - Hummie's World
Stop 53 - Northern Lights Designs
Stop 54 - DesignZ by DeDe
Stop 55 - twisted angel
Stop 56 - Desert Bloom Designs You are here
Stop 57 - Rachelz_Expressionz
Stop 58 - Creations By Jessa
Stop 59 - Bits'N'Bobs
Stop 60 - Amanda's Scrappy Creations
Stop 61 - Heartfelt Perfections
Stop 62 - Candie
Stop 63 - Just For You DigiScraps
Stop 64 - Cuddlebeez Scraps
Stop 65 - Prairie Sage
Stop 66 - Creekside Cottage Designs
Stop 67 - PinkuPixie Digital Designs
Stop 68 - Mariscrap
Stop 69 - Marbled Circle
Stop 70 - Panda Bear Designs
Stop 71 - Kolor'Scapez!
Stop 72 - Stellarfairie designs
Stop 73 - Manda @ Disaster In Designs
Stop 74 - Danielle [DMK Designs]
Stop 75 - Katlen Kreations
Stop 76 - Babydoll's Scrapz
Stop 77 - Angel Flower
Stop 78 - Designs by Teri
Stop 79 - SandEz Creationz
Stop 80 - Sistermoon Scraps