Okay,long awaited post, I know. It has taken me 2 days to figure out how to do some things and, in the meantime, blogger would not let me upload photos. So this post has been in the works for 3 days now. Finally, all of the bugs should be worked out. Now that I know how to do what I need to do in the future it shouldn't take me so long to do it next time. LOL. Sorry if that doesn't make any sense right now, but it will very shortly.
I have been busy, busy, busy working on my little ole blog train freebie diligently for weeks now, and the end is in sight. Well, sort of. I have sooo many elements that I created, 50 to be exact, that I have decided to break it down into smaller parts and offer them as additional freebies. How does that sound?
I have been spending about 90% of my time working on this, until the wee hours of the morning. Not to mention giving my computer a stroke at least twice a day now. LOL.
Anyhoo, I have lots of news to share. Let's see, where to start. Well, I guess I'll start with the older items and work my way up to the current happenings.
I know it is old news by now, but still wanted to let those of you know that Linda of Tirza's Treasures has some beautiful kits in her store, just in time for Christmas. LOL. Here is a preview of what she has available at Ahhh Scrap and Scrappin Out Loud.
She also has a Christmas Wedding Add-on freebie available for download on her blog. Please go check it out by clicking on the preview and leave her some loving.
Next, Tracy of Ambowife Designs has some wonderfully beautiful kits available in her stores as well. They can be found at Stone Accents Studio and Treasures to Scrap. Here are her previews.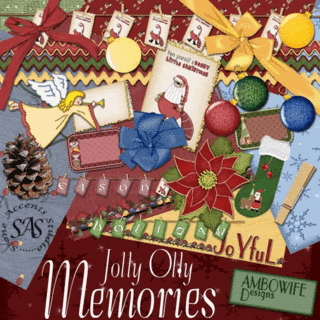 She also contributed to the November Treasure Chest Collaboration at Treasures to Scrap. Click on the preview below to be taken to her blog for all of the details on how to get this totally awesome kit.
She also has this QP available for download on her blog from her new Sweet Caramel Kit. Click on the preview below to be taken to her blog to download it.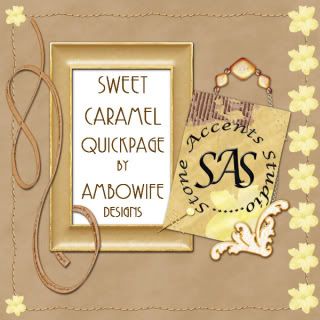 Okay, got the CT business done. Now on to some good news, and some bad news. The good news first. I met a new friend online through a digiscrap yahoo group. Her name is Marjie and her blog is at http://starfiredesigns.blogspot.com/. She gave me a wonderful award. My very first, in fact. I feel so special and honored.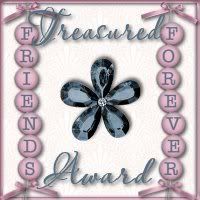 Thank you so much Marjie for this treasured award!
Please visit her blog and say hi to her.
The rules are simple, I need to pass this onto 5 Treasured Friends who have not yet received it. I would love to present this award to my 5 treasured friends:
Tracy
of Ambowife Designs who has helped me out in sooo many ways.
Linda
of Tirza's Treasures who has been a Godsend to me.
Brenda
of Cuddlebeez scraps who really is a treasured friend.
Kimmie
of Kimmies Kreations who is a big sweetheart.
and of course
Marjie who is just the best, I couldn't think of anyone better that deserves this award more than her, she has helped me through some issues lately that I totally appreciate. Thank you sooo much.
Alright, now on to the bad news. This just came to my attention last night and I have been seething and heartbroken ever since. I figure the least I can do is try to bring it to others attention as well. As I said before, Brenda of Cuddlebeez Scraps is a very treasured friend, and when one of my friends hurts, I hurt as well. The low down is that she decided to open up not 1, but 4 new stores at The Scrappin Corral, Tagger's Scraps, Digi by Design and Bouquet of Pixels to start selling her kits. Great news, right? Well, apparently someone else didn't think so and proceeded to send her NASTY emails. And when I say nasty, I mean they called her everything but a white woman. How mean, rude, just plain terrible. I feel so bad for her. I can't believe that someone would do that just because she decided to start selling some of her kits in stores. It's not like she isn't going to be offering freebies anymore.
Anyway, if you could do me a favor and visit her blog, http://cuddlebeezscraps.blogspot.com/, get the whole story she has posted there, and leave her some love, I would greatly appreciate it. She needs all she can get right now and all of the encouragement we can give her. She truly is a sweet person and doesn't deserve that kind of treatment. Thank you in advance.
Okay, now that I got that off of my chest. Onto better news. I have an update of my own, finally. Here is the sneak peek of my Holly Jolly papers that I have been promising for I don't know how long now.
Sorry, I don't have the preview for the elements done yet, as I haven't decided what is going in it just yet, but soon. Remember, these won't go live until December 15th for the Holly Jolly Blog Train, so come back then and make sure you have your traveling shoes on and ready to snag lots of wonderful kits. At last count, we had 74 participants. Oh My Goodness, scratch that. I just went and checked to verify that number, and we have suddenly expanded to
84
. WOW.
I have seen some of the previews and they look great. Hope you have lots of room available on your hard drives. You will need it. LOL.
I don't know if everyone noticed right away, but I have been doing some updating along the way. I have a new Cbox chat now that you can comment in and leave me messages. I also have created a new email specifically just for my blog and posted it on the right hand side under my 'about me' info. So now you will be able to send me personal emails with your comments, concerns, constructive criticism, etc., anything you would like to talk about.
Okay, the last little bit of news I wanted to let you in on is that our household has expanded again. We now have
4
dogs. Yes, I have a new baby. His name is Rico, and he is another Miniature Pinscher. Like Roxy, but he is the standard black and brown colors instead of the Red Stag, which is what Roxy is. I got him from a lady who could no longer take care of him and spent the amount of time with him that he needs. I got him because Roxy has been so upset and depressed lately since Hogarth left. She has been almost lifeless and inactive. So I figured she needed a friend. We got Rico yesterday, and she has been so happy. Rico took to her right away. Roxy wasn't too sure until we got home, on her own turf. Then she took off to playing and laying down the rules. They take off chasing each other and wrestling all over the house now. They are just what each other needed and are so happy together. Now, instead of one dog sleeping on my lap while I work on the computer, I have 2. They both follow me everywhere I go and do everything with me. But I am loving every minute of it. Sorry, I don't have any pictures of him or both of them together, yet. Still haven't made it to the store to buy them batteries I keep forgetting about. But I will shortly, I promise. I am dying to take some pictures of them.
Well, I guess that does it for now. I need to take off and get my kit finished up so that I know what is going into it and what is going to go into other freebies between now and the big day. So, check back in the next few days, and I should have a special offering for you, 'K. Bye for now. Take care all and have a Wonderful weekend. TTFN.