Sorry it has taken me a few days to get to this. I suddenly came down with a bout of stomach flu yesterday and am just now getting to feeling better.
Woohoo, I have received 2 new awards. I am shocked and thrilled all at the same time.
The first award is from Poppy of
Popcorn Alley
. Thank you so much Poppy. She has a LOT of totally gorgeous kits available on her site. I know, I have almost all of them. You need to go check it out, and tell her I sent you.
Now, on to passing this award on. I know it usually is passed on to only 5 other designer's, but the choices are just too hard and I think that everyone on this list deserves it, sooo... I am going to pass it on to as many as I can think of off the top of my fragile little brain, and hope I don't leave someone out by accident.
First up are all of the Designers Creative Teams that I am on.
Tracy of
Ambowife Designs
Linda of
Tirza's Treasures
Carolyn of
Digi Cyber Scraps
Anna of
Delicious Scraps
Next, I would also like to pass this award on to SEVERAL other designers that I visit and admire. They are in no particular order of favoritism, just how they pop in my head.
Starfire Designs
Kolor 'Scapez
Twisted Scrapper
Wench Designs
Debbies Digi Digest
Bits and Bobs
Twin Mom Scraps
Whisprddreamz designz
Fall3n Angel Scrapz
Memories Made Easy
Whispy's D'zines
Scrappy Redhead
Laurie Made Me Scraps
Baby Cakes Scraps
Scrappin Cop
Blue Dream Designs
Annie's Digital Things
Stolen Moments
Flower Scraps
Annie's 4 Corners
Purple Dragonfly Creations
Teri's Scrappin' Playtime
Willow Grace Designs
Sweet Blossom Designs
Distinctively Auri Scraps
Witchy's Scrap Dezignz
CuddleBeez Scraps
Kimmies Kreations
Candy's Treats
Tizzys Angel
Creations by Jo
Misfits Scrapz
Clarey's Designz
Heavens Designz
Candys Treasures
All of these ladies have awesome talent, work really hard and create beautiful designs, and I feel they all deserve this award. I hope I didn't miss anyone. If I did, I apologize, and consider yourself counted among the many.
The second award comes from
Candys Treasures
. She was really sweet in passing this award on to me. Not sure if I deserve it just yet, though, LOL. Thank you.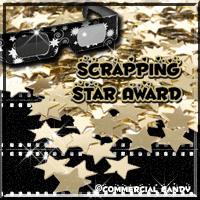 I can only pass this on to 5 other designers, and again, it was a hard decision, but I am going to pass it on to those I feel are the most giving of themselves, their time and their talent, though all on the above list deserve this award.
Tracy of Ambowife Designs
Carolyn of Digi Cyber Scraps
Anna of Delicious Scraps
Soto of Twisted Scrapper
Kolor 'Scapez
Thank you ladies for everything you do.