I am shocked and amazed, and honored also, that someone chose me for this award. Lori of
Bateau-maison Creations
sent me this award. Wow, I don't know what else to say, other than thank you Lori.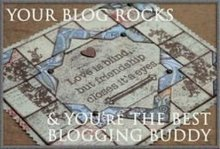 Now is the hard part. There are so many blogs that I visit that are just absolutely amazing and wonderful, how can I choose only 5. Then others will think that I am playing favorites. There are several I can think of that I would pass this award onto. So, I am going to pass this on to the five people that have helped me out the most in the last few days, who really are the best blogging buddies a girl could have and who's blogs really do rock. Now, I don't want you to think that I am playing favorites and picking on the same people over and over again.
I am sending this to the following blogs and the reasons why:
Tracy of
Ambowife Designs
-for being there for me through trials and tribulations, for understanding my less than stellar CT duties, and being a wonderful blog friend.
Carolyn of
Digi Cyber Scraps
-for pretty much the same reasons. We have had some wonderful conversations over email and have a lot of wonderful things in store for everyone in the near future. Watch out when the 2 of us team up, fireworks go off. LOL.
Michelle of
Michelle's Angels
-for being a wonderful blog friend and being very understanding. She and I have so much in common, it is almost scary. Scary cool, though. There are other reasons also, but that is a surprise, and I don't want to ruin it here. LOL.
Crystal of
Scrappy Inspirations
and Co-Owner of
Scrap Happiness
-she is a wonderfully generous person, of herself, her time and her understanding. This is my way of thanking her for all she does and has done for me.
Denise of
Designs by Scrappy Redhead
and Co-Owner of Scrap Happiness-she is a wonderfully talented designer and one of the nicest people I have met. Chelcey and I are great admirers of her work and are so happy to be a part of Scrap Happiness' CT team.
Okay, I think I have gushed all over everybody enough for right now.
I was supposed to post a really special post earlier, but Mike let me oversleep and I didn't get any of the work done that I had intended to. I had been up working on the computer for about 26 hours straight and was starting to fall asleep at the computer. He was supposed to come wake me up at 4 pm, but I didn't wake up until 10, instead. So, I am going to go do it now and post a little later this morning. I will catch you all later. TTFN.