First, I want to apologize for being gone for so long. I know I promised a post days ago, but have had so many things going on recently. I don't want anyone to think I forgot.
Okay, so the big news is that I now have not 1, but 2 stores to sell my scrap kits at. I was given the opportunity, and with the current economy and family situation at home, I had to jump on it. Otherwise, it was off to work for me and scrap when I could, when I had time. Now, not to worry, I am still going to be offering freebies for everyone, just not as big.
I am proud and honored to say that I am one of the new designers at a Brand New store, Michelle's Angels. Please stop by and visit us and help us celebrate our Grand Opening, from now until February 13th. The store is having a 60% off sale for the first week. We have a lot of talented designers and some absolutely gorgeous scrap kits available for less than $2. Check it out by clicking on the Grand Opening Store Ad.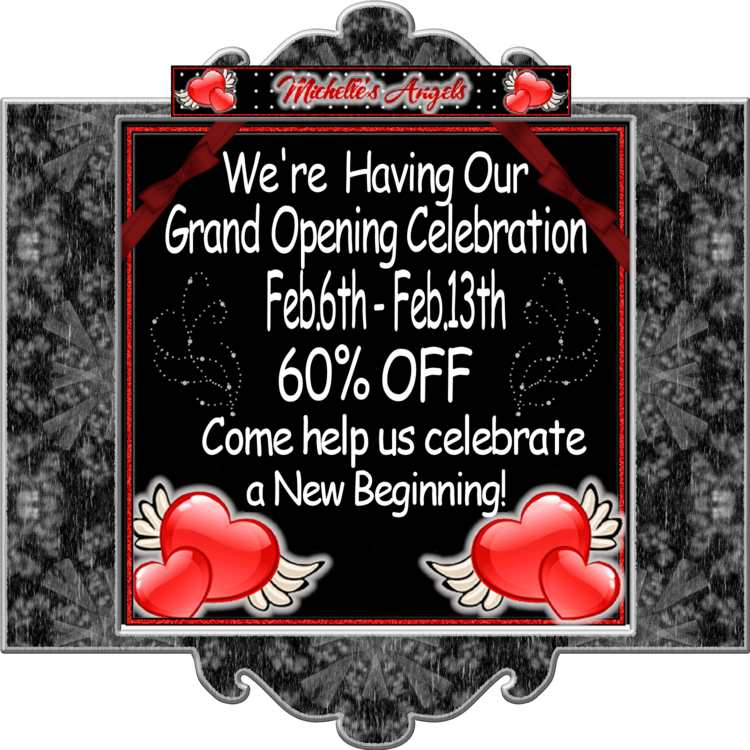 I also have been accepted at another store, Scrap Happiness. That is what my secret surprise was earlier this week that I was supposed to post later about, but never got to until now. Their are some totally awesome designers there that have made me feel very welcome and at home there. Thanks ladies.
I don't have a Grand Opening Store Ad made up yet, but as soon as I do, I will post it.
As I said, there have been lots of things going on lately. I made my second trip to the ER for this week this morning, this time with Brandon. He has a severe sore throat brought on by a cold, so he hasn't been feeling too well for the last couple of days. The nurse who took care of him this morning said his throat was the worst one she has ever seen, so that should tell you something. They did a quick strep culture and it came back negative, so they did another one to let it grow for 48 hours and see if they may have missed it. I doubt it. He has had strep several times and says it doesn't feel the same as strep.
Okay, I am off to get some more work done. Hi-ho, hi-ho, it's off to work I go. LOL. Later guys. TTFN.