I have a new kit available in both stores, called 'Chocolate Cherries'. Kind of late for Valentine's Day, but can be used for Romantic pictures, Mother's Day, weddings, prom, and other every day uses.
Kit contains 34 Papers and 150+ Elements including:
14 Butterflies
7 Fasteners
7 Ribbon Laces
7 Frame Wraps
7 Satin Ribbon Wrap Frames
7 Bows
7 Eyelet Lace Heart Frames
6 Heart Jewel Dangle Curtains
7 Diamond Heart Pendants
6 Diamond Bling Doodles
12 Layered Flowers
6 Ribbon and Hearts Frame Wraps
2 Flowers with Doodles
5 Satin Flowers
2 Picot Lace Ribbons
3 Decorated Matte Frames
3 Lace Frame Wraps
3 Plain Matte Frames
25 Ribbon Roses
2 Decorative Marble Frames
2 Marble Frames
2 Envelopes with Heart Inserts
4 Diamond Drop Dangle Curtains
5 Long-Stemmed Roses
6 Daisies
Here are the previews.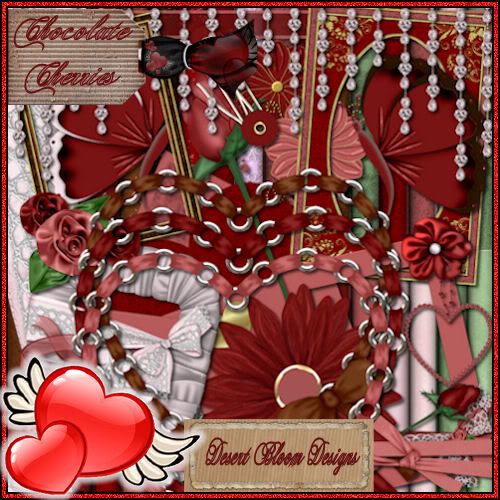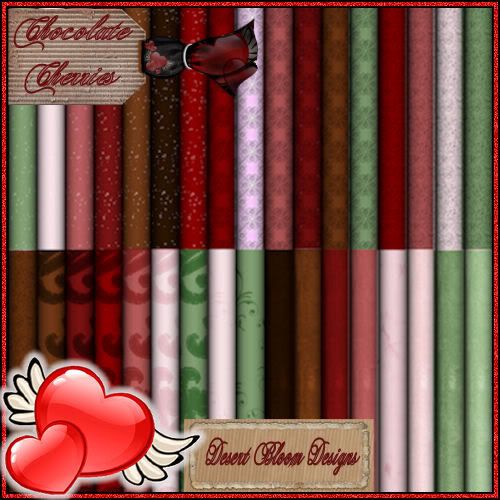 Kit can be purchased at either,
Michelle's Angels
or
Scrap Happiness
. It will be on sale for $2.10 for the next week. That is 60% off the regular price, so hurry before the sale ends.
I have 2 more kits that I am working on currently. One is for Mother's Day and the other is just because. So keep and eye out for them and some upcoming freebies. TTFN.